Our Staff
Global Friendship Ventures is the nonprofit organization which has grown out of a well-established ministry of the Tabernacle Church of Norfolk. This team is made up of people who love to serve and work with international students.
From left to right: Kurnia, Lian, Kathy, Elaine, Jimmy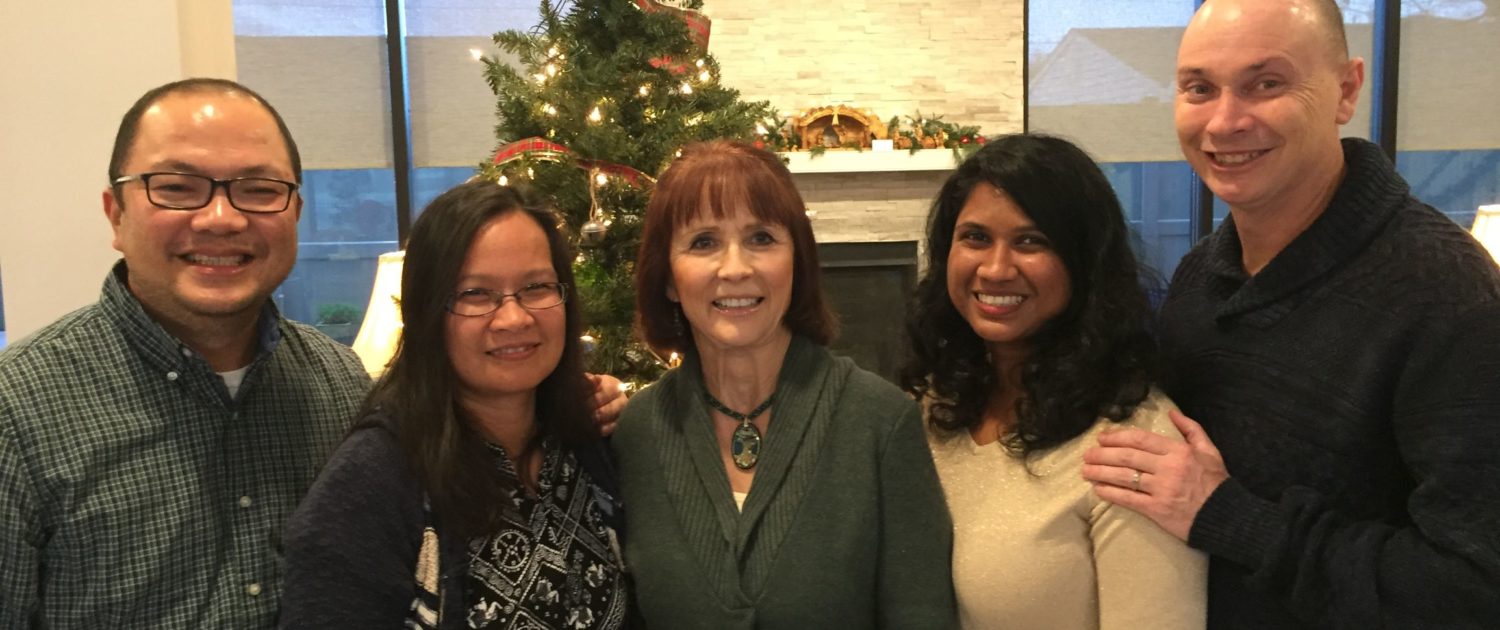 Kathy Hardison
Director
Kathy Hardison is the director for Global Friendship ministries. She was the Director of the international student ministry at Tabernacle Church of Norfolk and served in that position from 2005 to 2009. She has worked alongside her husband for more than 35 years of ministry at Tab, assuming a variety of leadership positions. She has served on the board of TEAM for 9 years and has traveled broadly in order to support missionaries in their place of service. Involvement in ministry to international students has been a lifelong passion, one which has deepened the spiritual life of all the Hardison family members. She and her husband Rich are members of Virginia Beach Community Chapel and their 2 adult children and 5 grandchildren are a vital part of ministry there.
Global Friendship Ventures
Kurnia Foe
Campus Ministry Director
Kurnia Foe, Ph.D, is from Bangka, Indonesia. He accepted the Lord Jesus through a small group Bible study while a student at the University of Indonesia. He graduated with a master's degree in Experimental Nuclear Physics and a doctoral degree in Electrical and Computer Engineering at Old Dominion University. Kurnia and his wife, Lian, have been involved in ministry since serving together in the campus ministry in Indonesia. As a team, they have been serving thousands of international students, scholars, and their families. God has blessed them with five sons: Joshua, Micah, Nehemiah and twins-Timothy and Titus. Kurnia is the first recipient of the MONARCH LEGACY AWARD (for founding Global Student Friendship and serving over 4,000 international students and scholars at the ODU campus) presented by Old Dominion University. Also, he was the first recipient of the TIMOTHY AWARD (for outstanding leadership among international students and scholars around the world) presented by the Association of Christians Ministering among Internationals.
Global Friendship Ventures
Jimmy & Elaine Shaw
Residence Life Managers
Jimmy and Elaine are the newest members of the Global Friendship team. They serve as Residence Life Managers at the Global Friendship House.
Global Friendship Ventures
Click here to learn more about our
Board of Directors serving on our team.